Waiting
It seems I'm doing a lot of waiting right now. I'm waiting for the stuff I ordered online to arrive so I'm also waiting to wrap everything. And I'm waiting for some inspiration as to what to get for a couple of friends who fall in the impossible to buy for category. And I'm waiting to get to the market to get some more eggs and toothpicks. I've had the same box of toothpicks for over fifteen years but have finally reached the bottom. I only use them for baking so that will give you some idea of how often I bake.
And I'm waiting for my wrists to quit aching quite so much. I've been making hats using bulky weight yarn on size 8US needles.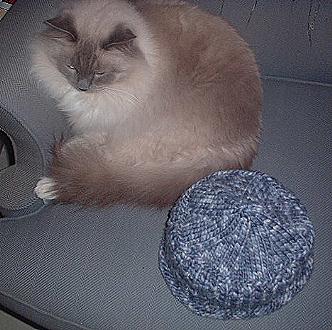 (Patrick is waiting too. He doesn't like it when I don't drop what I'm doing and come and play. So he's also sulking while he waits.)
Anyway, working with the heavy yarn on comparatively small needles has really done a number on my wrists and my left thumb. I didn't do much knitting yesterday and won't be doing much today so that should help. I'm waiting to find out.