Patrick grazes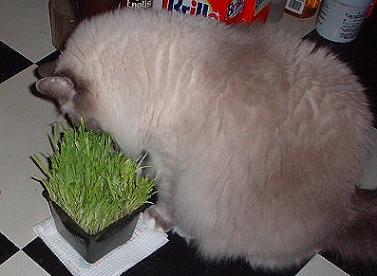 I brought this grass home on Sunday night. It was part of the Easter table arrangement at Robert's house. He told me it was cat grass. I didn't know how Patrick would react or if he'd even know what to do with it. Less than a minute after I put it on the floor he was there and chomping. Now he spends a lot of time just burying his face in it. I don't know what it really is but he loves it. Pat the Sheep.
I finished the first glove last night. Well, I finished the knitting. Now I have all those ends to find a place for. Some of them will have to be used to close up some of the holes around the base of the fingers. I was sort of expecting a few ends to weave in but had no idea there would be so many. Just not thinking, I guess. Anyway, any hints on how to add fingers to gloves without all that joining and picking up. I need to cast on for the second one and get it started at least.
Instead of that I started a new pair of socks. The Feather and Fan socks from Socks, Socks, Socks. I think I finally got the German Twisted Cast On figured out. Since the socks start with garter stitch I needed a cast on that would have plenty of stretch and this one seems to be good. My friend Lammia had tried to teach me before. I could do it but it wasn't stretchy. There was an article by Meg Swansen in the last Vogue Knitting that showed how to do it. I think I was picking up the stitch on my finger backwards, underneath instead of over. Whatever I was doing wasn't working and it is now. I'm still baffled by the Austrian Twisted Cast On that is in the current issue of Vogue.
In case you're wondering, that Brillo box on the floor behind Patrick was just there while the plumber was here to repair my kitchen sink. Well, actually, it's still there but I'll get it put away along with the rest of the stuff sometime this weekend.