Black is the new
well, black. For those of us who have lived through "Red is the new Black" or purple is, or pink is, it's nice to see black making a comeback. I like black. I look good in black. I can barely see when I knit with black. Especially when I'm cabling without a cable needle.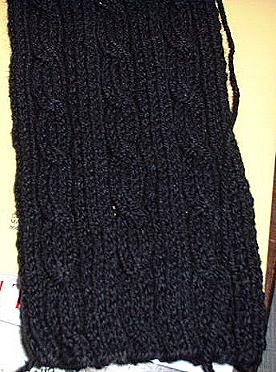 This is the scarf I'm making for Mendy's Robert. The original photo is a lot easier to see than this electronically mutilated verion. It's a fun, easy to knit sequence of ribbing and cables that Mendy swears he will love. The best part of making a scarf for a man is how much shorter it can be.
Even Noro, famous for their wild color choices, has come up with a black-ish version in Kureyon, Color 116. I found this at Unraveled yesterday.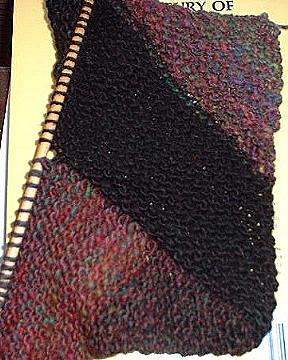 It's really a lot darker and the black, which looks kinda charcoal here, is very black. Flash isn't always a good thing. I think I'm going to need a couple more skeins so I'll have to go back. Which is a good thing.
I went there, Unraveled, yesterday. Without going into details, let me just say they have excellent customer service. They have put out more yarns and rearranged things a little.
The knitting lunch yesterday was a big success. Renee made Jamaican Pumpkin Soup. Spicy and full of good things including Scotch bonnet pepper. I got the fringing done on the two scarves, as planned. If this sudden, unexplained surge of domesticity continues I'll probably get them washed and blocked tonight.