Vintage knitting
I have recently begun to obsess, panic, evaluate, whatever, my stash. Some of it is so old that it truly qualifies as vintage. Some of it I don't even recognize. I'm really determined to use stash as often as possible for just about anything that comes along. I used some for my Dulaan projects and have managed to empty two small boxes.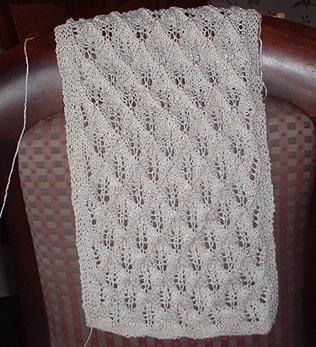 This is the Fern Lace Wrap from the first Box of Scarves patterns. I came across this yarn one day when I went out on the balcony to water my plants. It's a yarn from Crystal Palace called Helena. Cotton and viscose. I thought I had just enough for this wrap. I later found another bag of the same yarn in a different color. I've not idea where I got it or when. But it's easy to work with and really shows off the stitches. (You'd be able to see them if I could get a decent picture. I can't believe I dug out my tripod and everything and still got this lousy image.)
I started this wrap a few weeks ago but put it aside to do some other projects. I picked it up on Sunday and worked about six rows before I realized I wasn't on track. It wasn't all that hard to correct but I did lose all that time. Anyway, I got about six inches done yesterday before I got sidetracked on another project. That one, which I expect to finish this evening, is another scarf from the Box and uses a couple or yarns that I've had for at least ten years. I'm going to have a lot left over so it will probably become another scarf. I suppose I could just donate it but I have a really hard time doing that. I don't mind giving away finished things but I really want to do the knitting part.
And I found another project today that will use the Cascade Sierra I've had for about three years. That was supposed to be a sweater for me but I don't like the pattern anymore.