New glasses
The new eyeglasses are just swell. Except they keep slipping down a little more than I can stand. I need to stop back and have them re-tightened. Tri-focals, I've worn them for years now, are more challenging than bi-focals. It usually takes some trial and error before everything is back to normal, i.e., I don't have to think about it.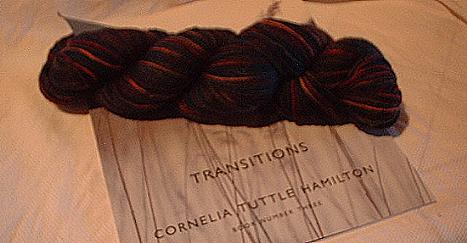 I finally got around to buying "Transitions", a booklet of patterns using Araucania Nature Wool with designs by Conelia Tuttle Hamilton. There's a large, holey scarf in it that I have been wanting to make ever since I saw it. I want to use the exact color, a sort of wheat color, but Skein doesn't have it. Neither does Unraveled. I may ask Ann Mary to order it for me. Or I may just use another color, depending on how much pressure I feel to get started. When I didn't find the yarn at Unraveled I bought this skein of Bearfoot, just because I was there and couldn't go away empty handed. Does this really work well for socks?
I got two more skeins of the Kureyon #116 for the MD scarf. Thanks, Mendy. I'm just about to add the third skein of six. And I'm maybe a third of the way through the black cabled scarf. There won't be much, if any, knitting tonight. Lisa is coming over for dinner. Which reminds me. I'd better at least go make the bed.