Man does not live by cookies alone.
And I'm trying not to either. I haven't opened any of the candy and cookie packages. But I do have one plate that was presented with only some flimsy plastic wrap. That has been my downfall. But for the first time ever I've been sensible and careful. Not much fun actually but I don't have to spend the next month trying to get rid of the extra pounds. Those cookies and candies are going to Skein to be shared with those less self-righteous than
moi
.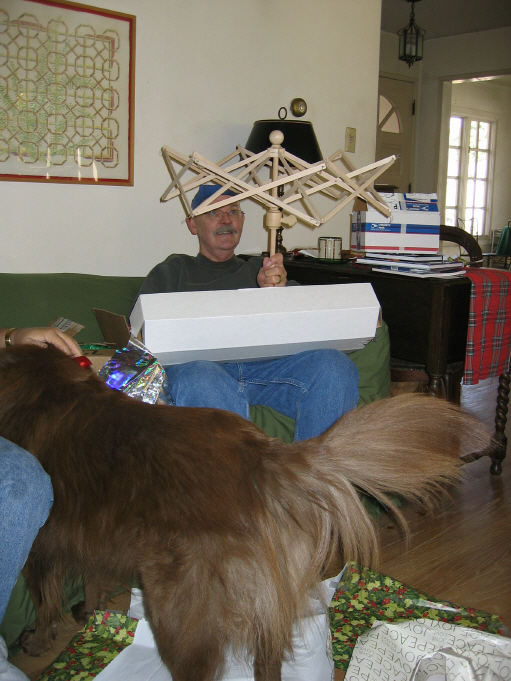 Here I am, holding aloft my new swift. I spent Christmas morning with Lisa and her mom at their house. They have a large dog. I'm wearing a paper crown that I got in my Christmas morning cracker. On the wall is a pastel drawing that I did about twenty five years ago. Well, I've been wanting a wooden swift so Lisa told her mom and lo! and behold! There were lots of other good things. Knitting books and more knitting books. And a new garden hose that doesn't fit the faucet so it's going back.
Today is yarn shopping day. A Stitch in Time is still having their 30% off on knitting yarn sale, through the end of the month. I got a super-generous package of cash from on of my students. This is a perfect match. I'm going to buy some more Lana Grosso Colore. I used it for a couple of hats and I like it, even if I can't do much knitting right now, due to a sore wrist that I'm letting rest for a day or so.