Pretty in Pink
Sometimes the mind just won't work. I couldn't think of anything better so there you have it.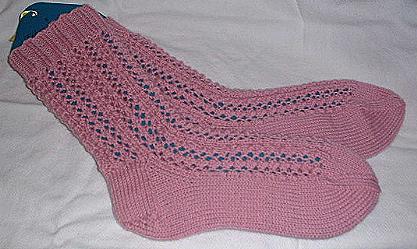 The Girly Girls socks from
Socks
, Interweave Press, edited by Rita Buchanan and Deborah Robson. I used Brown Sheep Nature Spun, 4 ply, in Victorian Pink, on size 2US dpns. The sock design itself is by Robin Fouquette and was done in an angora blend that she spun herself.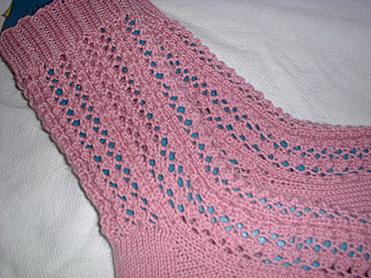 A detail shot. These socks are pretty easy once you've memorized the pattern which is only a four row repeat. The yarn was the biggest problem. It splits easily and the knit 2 together through the back loop was tedious because of it. If I knit them again I will try the SSK instead and see if it looks okay. I have some yellow JaWoll that I think will be easier to knit (Yummy in Yellow?) and also some light blue (Bitchin' in Blue?). Maybe not.
The socks are for a long time customer of Skein. Sort of a late Christmas present. She's been asking when they'd be done so I'm glad I'll be able to hand them off this week sometime.
And I'm into the third skein of the scarf I'm making for Cure for Cancer. Not sure if that's exactly the right name, but it's something like that. Anyway, it should be done sometime this week if there are no surprises. I picked up the Five Cable scarf again for a little comic relief from the other scarf.
Now that I've finished the Girly Girls I can get back to the Yukon Falling Leaves socks I started last fall. I've lost track of how many pairs of socks I have going. But I got two more sets of size 2 dpns last week and I got yarn for three more pair of socks today.