Strictly speaking
When I wrote yesterday that there had been no yarn acquistion for two weeks that wasn't, strictly speaking, true.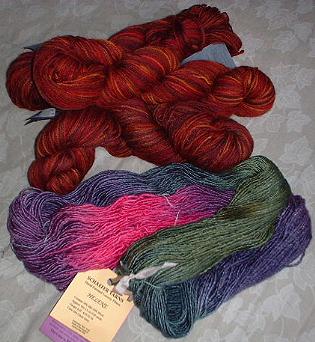 A hank of Schaeffer Helene in the Mary Pickford colorway. And three hanks of Mountain Colors Bearfoot in Yellowstone. The Schaeffer is a birthday gift from Mendy and the Bearfoot, also from Mendy, is a somewhat belated Christmas present. I'm thinking scarf for the Mary Pickford and shawl (maybe Clapotis) for the Bearfoot.
Another hank of Schaeffer yarn. This time it's Kathleen in the Indira Ghandi colorway. This was a Happy Thursday gift, or a just because. This yarn is a bulky and there are 150 yards. This will most likely also be a scarf, worked the long way.
I did get some Araucania Wool too. But it's something I had ordered a couple of months ago so it doesn't really count either. The yarn is too pale to photograph well but when I finish the project I ordered it for I'll be able to show it off. I can't remember where I put the Transitions pattern book that has the project in it. It's another scarf but it's special.
The stash grows, even when I'm not trying, or buying.