Scarves - the Next Generation
Just when I thought the scarf craze was beginning to taper off, along comes this book:
Scarf Style
by Pam Allen, editor of Interweave Knits. Partly I was surprised because I hadn't heard any chatter about it. Skein got five copies on Friday and they're all gone. Ann Mary said she had ordered more so there's hope.
There are thirty one patterns by twenty nine different designers, including some of my favorites,
Annie Modesitt
to name just one. And the range of difficulty is wide. Some are quite simple while others are pages long. There's a section to help with designing your own. Each pattern has a brief introduction to the scarf and its origin or inspiration.
I haven't read all the patterns yet but so far they seem clear and easy to follow. Certainly there are some scarves in this book that I'm not likely to make but there are plenty that I'd like to.
Here's one that I started yesterday, from the Design Notebook section: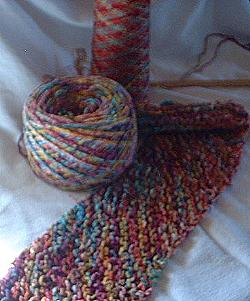 It's a knit on the diagonal garter stitch. I'm using some Soy Chenille that I got at
Unwind Yarn
and a carry along that came from
Velona's
. The soy is easy to work with but the color seemed a little flat. I was looking for some metallic that I know I have in my stash but I came across this one first. It has almost the same colors as the soy chenille but a little brighter.
And here's the one I'm making using the Jo Sharp Feather and Fan pattern:
I've had this angora/merino in stash for several years. I made a shawl from it originally. I'm pretty sure I have enough to finish this scarf. Just have to find it.
I know these are pretty simple but I'll get to Annie's scarf just as soon as I can.