A most pleasant and quiet weekend. I just got home from
Phebie's
, one of the few yarn shops that are open on Monday, at least around here. I stopped on the way to help my friend Dorris with the gauge on her newest project and then picked up my friend Carol. Neither of us really had to have anything but we went just for the fun. I did get a US13 circular I needed and three skeins of Araucania Nature Wool in a dark, mottled burgundy. I tried to get a picture but neither of them were worth the editing time. We stopped at China King on the way home and gorged ourselves on their buffet.
I spent a few hours yesterday working on the Midwest Moonlight scarf from
Scarf Style.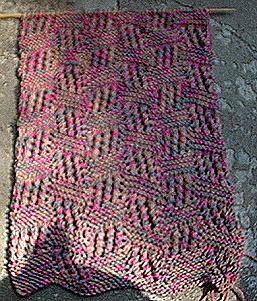 It's an easy pattern and I like the yarn, Grignasco's Sweet Print.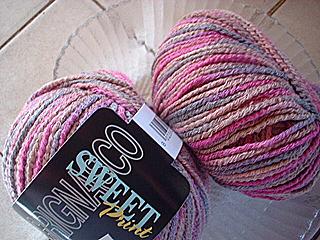 I'm about 20% done. Now for the hard part, making myself finish it. I don't know what the opposite of startitis is but whatever it is I have it.