Happy Birthday, Lisa
Today is the actual day but we celebrated on Saturday night. Everything went well and she loved her gifts, including the newest poncho. And the Broadripple socks. However, due to the humidity and possibly the wine and beer, there are no photos. We went out for sushi. Well, she had sushi. I don't like seafood, even when it's cooked, so I'm not likely to have sushi.
But I did manage a photo of my newest project.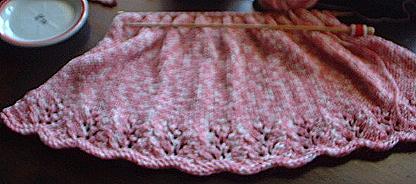 Hmmm. It looked much more in focus on the preview. Oh well. It's going to be a sleeveless top. I'm using the Grignasco Sweet Print that I got on sale at Needle in a Haystack a few weeks ago. I added a lace border instead of ribbing similar to one that
Bron
did a few weeks ago and I'll do the armholes using a technique that I picked up from Kim Hargreaves in the Rowan Summer Tweed book from a couple of years ago. According to the Sweater Wizard yarn calculation I should have plenty.
I still owe emails and thank yous to lots of people who commented or sent emails about the knitting help pricing as well as suggestions to help with my tingling arms. Just in case I miss someone let me do it publically. I haven't had any more discomfort since I figured out the chair problem but I am paying more attention to my posture and trying to take breaks and exercise.
And the car is with the mechanic for diagnosis. They seemed a little confronted when I mentioned that it might have something to do with the last work they did. I'm waiting for a call, check book in hand.