The operative word
Whenever I take photos it's always a bit of a crap shoot. You can guess what the operative word is. But, because I promised, and because this is a knitting blog, and you're supposed to have photos if it's a knitting blog here are some.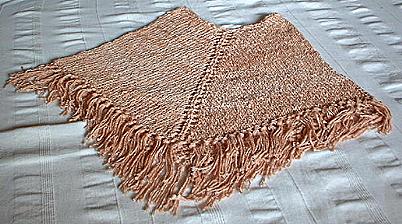 This poncho really looks much better on a body but there aren't any here, except me and Patrick and that really doesn't work. Thanks,
Stephanie
for a fun, quick project.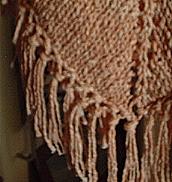 A close-up of the fringe.
We had our yarn distribution session as planned. I think everyone was pleased with the selections and with what they took home. Here's mine.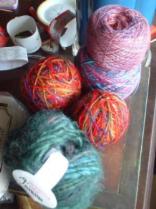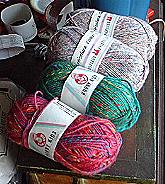 On the left, some stuff from Mystical Creations, at the top, some Schaeffer Anne, already wound in balls and a skein of Trendsetter Sonoma, for a hat.
On the right, sock yarn, woo hoo!. Two skeins of Fortissima Colori in a grey and Easter egg color "tweed". And two contrasting skeins of Stahl Hobby Kids sock yarn that I will use to make mismatched socks. I've been thinking about this yarn ever since it was brought in, months ago.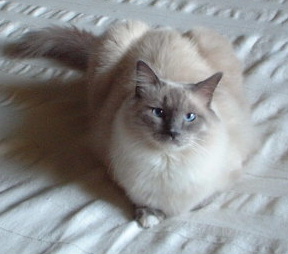 "Can we play now?"