The Phoenix Fable (yarn)
I didn't notice the literary connection when I purchased these two yarns yesterday. But I thought it was kind of a nice coincidence. Oh well, anyway.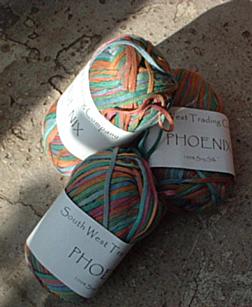 This is Phoenix from
Soy Silk
in the colorway Canyon. For a medium sized, triangular scarf. Well, that's the current plan.
And this is Fable from Artful Yarns. You can't really see the subtle colors but there are actually four plies, one each of olive, old gold, light olive and what may be a grey. This is for another poncho.
Tonight is Knit Night and we're supposed to be having a stash redistribution. We've been trying to do this for a couple of months now. I think tonight we'll at least have the majority of the group there so everyone (almost) will have an equal chance. I wonder what I'll find.

The Brighter Day socks in process. I'm thinking of ripping these and finding a more interesting use/pattern. The Opal yarn is incredibly soft. I just think it would show better with some texture. Any ideas?