Lookee, lookee!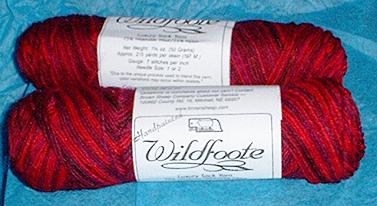 It's here already, the two skeins of Wildfoote that I won in
Margene's
comments contest. Isn't it beautiful? Will it be socks? Or the cutout hearts scarf pattern from Fiber Trends? I have some time to decide. Gotta finish some of this other stuff first.
We got the new Interweave Knits Crochet magazine today. We only got eight and two are gone already. There are some very interesting things in it. Even a few things that I with very limited crochet skills could make. I will probably buy a copy and see if I can work my way up.Most of the designs are from people I only know from knitting. Annie Modesitt, Shirley Paden, Norah Gaughan to name a few. Lily Chin is there too, but that didn't surprise me.
A very slow day today. Not one student. So I finished the foot on the second Broadripple sock and will graft the toe tonight. If I don't start another pair of socks right away I will only have four, or maybe five, pair still in the works. But I think I'll work some more on the Midwest Moonlight scarf.