It's anon.
So the sun is out and it's plenty hot here. Patrick and I are taking it as easy as possible.
I don't know what happened in my post yesterday but the two links that I typed ended up pointing to Blogger instead of where they were supposed to. I was very pleased to get a quick reply from Blogger telling me what the problem was. So I've fixed it.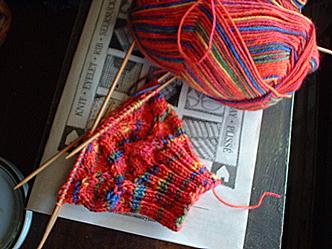 This is two pattern repeats of the
Yukon Leaves socks
. The yarn is Regia 4 fädig Color (1937) that I've had in my stash for a while. These are definitely for working on at home. But I think I'll enjoy knitting them.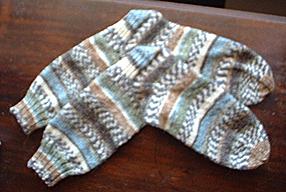 These are the ones I finished yesterday. Fortissima Colori Socka Color (9048). The solid stripes match pretty well but the patterned stripes are all different. Amazing what a slightly different starting point can do. I actually started these a long time ago but I had lost track of a stitch and it took me a while to find it. I had done a K2tog without realizing it.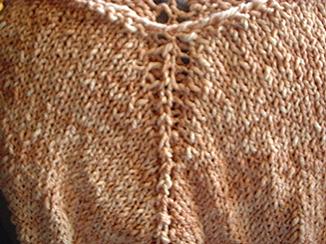 Here's the beginning of the poncho that Stephanie posted on her blog a couple of days ago. I really like the Araucania Nature Cotton (the web site is still en construction) but I'm not sure how it's going to behave knitted this loose. Probably long enough for the current poncho craze to pass. I just finished the second skein. It's too bunched up on the circular needle to get a decent picture but I hope in a day or so I'll be done and then I'll show you the finished piece.