Some pictures I should have posted yesterday
I took these pictures this morning. Yesterday it was just too hot to deal with it.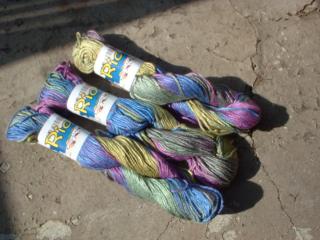 Some of the new Rio I got at Velona's yesterday. I really like how this yarn feels and knits, even though I've only made one small swatch with it. The colors are pretty accurate, at least from here. I like the slightly murky cast that the colors have. (On sales for $5.75 per skein. I got 10.)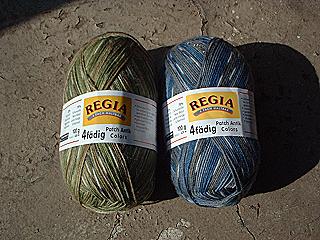 I also got these at Velona's. I'm just getting these yarns in case I ever start to knit socks again. I hadn't seen the "one pair per skein" put up before. ($12 per skein)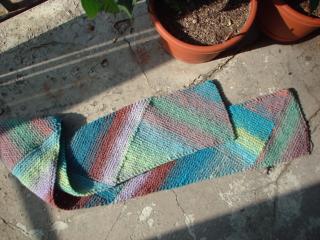 The finished multidirectional scarf. Well, it's still not washed but since I was already taking pictures I thought I'd just get it over with. I'll let you know if it gets any softer when I get around to washing and blocking.
The knitting on the current shop project was completed around 11 o'clock last night. I'm planning to sew it together today while I'm at Skein. There's a garter stitch border around the bottom and on the sleeves. Not sure how to mattress stitch garter stitch so I hope I can find a good reference, or that Ann Mary knows how.