Of socks and scarves and synchronicity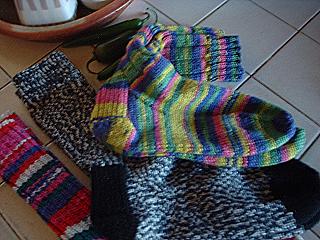 Here's the last of the socks. I'm definitely on break from socks for the time being.
This is the one pair I haven't already posted a picture of. I managed to get them to match except for the toes. I had to go back to the beginning of the second skein to finish and part of the color sequence was missing.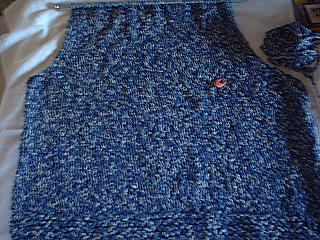 This is the back of my current shop project. A short sleeved cardigan in Spettacolo from Stahl. The color is actually a little lighter than in the photo but you can see the kind of blue it is. I'm almost done with the back but I've found a new distraction.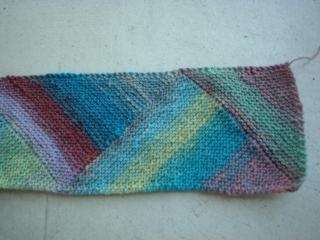 I don't remember where I first saw this scarf but when I first saw it I thought, "Hmm, looks interesting." Then I saw it again on
Matt
's blog. Tried to link to the pattern then but for some reason I couldn't do it. Then, just yesterday, I saw it again on
Amy
's blog. It was too much to resist.
A few days ago I was reading
Fervid Design
where she talks about noticing how related events show up and act like a signpost for something new. Not to make too much of a point of it, but this was something like that. After seeing this pattern so many times I felt I really wanted to make it. And I had three skeins of Noro Kureyon that I had purchased a year or so ago (for a project that didn't turn out all that great) so thought now is the time. This is not the most felicitous of color ways but it does show the stripe direction quite well. I made the scarf only six inches wide. If I do it again I'll probably go for about ten. I think this will be about five feet long.