Ars domestica
Today is laundry day. That's done now, and even put away. I did my token housecleaning last Friday so that when Lisa came over she wouldn't see the squalor that I usually live in. I hate household chores, always have. But I do it since no one else is going to. Personally, I'm not bothered by stacks of knitting magazines on every chair, or by the pile of knitting projects hiding the top of every table. I find, if I put stuff away, I forget where it is or even that I've started it. Either way, it's a curse or a blessing that comes with living alone. Except for the cat. The cat who contributes greatly to the work load. Fur, kitty litter and kibble all over the place.
I finished this scarf over the weekend. It's the classic feather and fan stitch pattern from Barbara Walker's
Treasury of Knitting Patterns
, Volume I, page 205 in my copy. It is also the same stitch used in the Jo Sharp design in
Scarf Style.
The yarn is something I got at a weaving show a few years ago, from an unknown company. It's very textured so the pattern doesn't show all that well but I like the subtlety of a pattern that is barely discernable.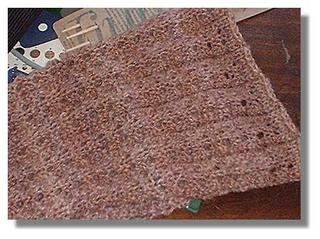 And another scarf, the Double Eyelet Rib. I used three skeins of Grignasco Top Print, 100% alpaca. This pattern stitch is from the same Walker book, page 46, and is the same stitch pattern used in one of the scarves in the Box of Scarves box.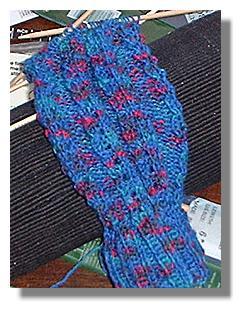 I didn't notice until I was half way through the first leg of these socks that the stitch pattern is the same as the Double Eyelet Rib scarf. There are two additional purls between the ribs, that's all. The sock's a bit of a pain to knit as the number of stitches in the pattern repeat doesn't divide evenly on to three or four needles. So I have one needle with only one repeat on it, but that makes it easier to work. I'm about to start the Dutch heel. I'm using some yarn that a friend gave me. It's one of elann.com's sock yarns. I made one sock with it before and didn't like the results so I've ripped that one and am recycling.
So, I'm wondering, what makes for an original design? The two scarves and the socks are simply the application of a known stitch pattern to a specific item. Does that make for an original design? Is it just because someone thought to use a given stitch pattern to make something? Does just doing the math and writing out the pattern constitute an original design? Can it be copyrighted?
I had a customer a couple of weeks ago who wanted to show me the sweater she was designing. I don't know who she thought she was kidding. That sweater is from
The Purl Stitch
by Sally Melville. Only the yarn was different. I think that's taking the word design a bit too loosely. I'm not sure if just adapting a stitch pattern is really designing either. I rather think not.
But, getting back to the
domestica
stuff. I think I'd better go to the market and maybe drop off some dry cleaning. And then it'll be time for my afternoon nap.