More sock stuff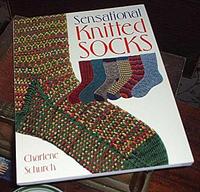 Here's a new book about sock knitting. It's one of the best I've seen so far.
Sensational Knitted Socks
by Charlene Schurch. (I also have her
Hats Off
book. Or is that
Hats On
?)
The book is filled with tables that take into account all the variables of yarn, needle size, gauge and foot circumference. And there are plenty of stitch patterns that can be easily used with the basic format of each style. She itemizes three different approaches to knitting needles: 3 dpns, 4 dpns and 2 circular. There are top down and toe up patterns plus a variety of heels and toes. And there are various tips scattered throughout the book that will make sock knitting even more enjoyable.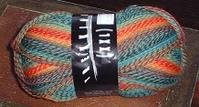 And, just because it was there, I had to have this new sock yarn. The colors are clearer and a little more intense in the actual skein. I'm glad I had some store credits from knitting shop samples to purchase this yarn. $19.00 per skein seems a bit on the high side for a commercially produced sock yarn.
The scheduled power outage seems to have gone okay. I went to bed an hour before it started but was still awake when it began. Amazing how quiet it is when all the appliances are off in the whole neighborhood. Guess I'd better go reset all the clocks.