Who needs to shop?
I haven't been yarn shopping for quite a while, several weeks at least. I am quasi-committed to reducing my stash and none of my usual fiber acquisitionists have been available. But the stash continues to grow.
My bi-polar student, who has re-surfaced after a three or four month hiatus, has been in to see me a few times in the past two weeks. Yesterday she gave me this: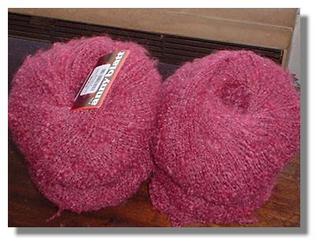 Four skeins of Anny Blatt Chimere, wool/mohair/nylon boucle. Lovely, soft stuff. That'll make a nice shoulder wrap of some kind.
And this: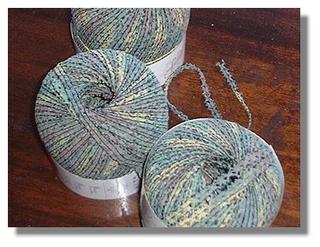 Three balls of GGH Jolina. It's one of zigzag-y ribbon yarns. There's a total of 275 yards, or so. Not sure what I'll do with this as it's not a colorway I normally use. There's probably something in the stash that will pull it over to my side of the spectrum.
And, Ann Mary finally got the newest batch of sock yarn marked and on the floor. I need to get my fair share of that before it's all gone. I meant to get it yesterday but I got distracted.