Done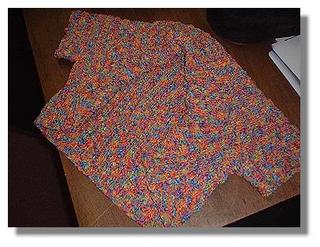 It's been a while coming but it's finally done, the shop sample shrug. There was no one at Skein who was willing to model it for a photo so you get it flat on a table. It's a little hard to make out the shawl collar that wraps around and becomes part of the side seam. Trust me. It looks very cute on and it stretches to accommodate a wide range of sizes. I used five skeins of Berroco Zen and 10.5US (7mm) circular needle. It's basically just K2,P2 rib with some decreases and cast ons for the sleeves. It's knit in one piece from the collar edge to the back.
I'm glad it's done so I can have a few days of working on my own projects while I'm at Skein, some scarves and socks, of course.
Another busy day for me. I taught three young ladies today. I had taught them to cast on and knit last year. The time they came in to learn to purl. We had a good time and grandma got a couple of hours without them.