The perils of purling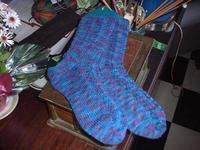 I'm still working on my Marissa sweater and it's getting close. Meanwhile, I decided I'd take a break and finish one of my lingering sock projects.
These are the Double Eyelet Ribs socks that I started a month ago, well approximately. The pattern is Summer Solstice from
The Sock Calendar
by Catherine Wingate and Jackie Erickson-Schweitzer, a book I got for Christmas a couple of years ago. I used some yarn from elann.com that was a gift to me from one of my Thursday night knitting buddies.
I think I had more problems with this project than almost any sock I've done. Nothing wrong with the pattern. I just kept dropping stitches. And the two skeins of yarn were very different. The first one was fine but the second one kept wanting to pool and looked very different from the first. I ended up breaking the yarn a couple of times to get it to look more like the first sock. It's hard to see the pattern in my photo but there is a rib of double eyelet lace.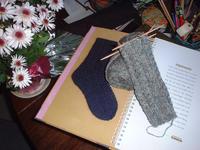 And then I decided to continue my break and start the Denmark socks from
Knitting on the Road
, Nancy Bush's famous book.
These socks are hard. Well, perhaps not hard, but they're tricky. Each needle starts and ends with a purl. On every cable row there is a left cross cable that requires moving one stitch to a cable needle and holding it in front. There is only one purl stitch holding the right hand needle. If you're not very careful that needle will fall out and you'll lose the purl stitch.
When I first started I decided I'd cable without a cable needle. Lots of problems with that because the needle tips were too fat to slip the stitches. So I switched to using a dpn for a cable needle. That's when I started losing the first stitch. Then I noticed that the dpn I was using had a sharper point than the main needles. So I'm back to cabling without a cable needle and it's getting a little easier but it's still a struggle. If you're not real fast those little knit stitches will just pop undone and run. I'm using a set of five inch Brittany needles, the shortest I've ever used. Not too bad.
It's still really hot here. The City of Pasadena has decided it needs to turn off the power tonight for about six hours. No a/c, no fan, no computer, no lights. I hope I can get to sleep before this all starts so I'll miss most of it.