Welcome to California
land of the groping governor. What were they thinking? I'm so embarrassed I can't stand it. In this land celebrity is all. It's not for nothing that it's called la-la land.
Well, back to real life. I love to knit with cotton. I think I even prefer it to wool. Well, maybe equally. I like the way it feels and the stitch clarity. So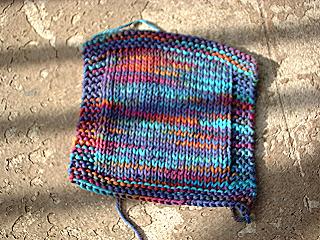 here's my swatch of the Kaleidoscope cotton yarn. The label says "handpainted by Brown Sheep Company, Inc." although the yarn is actually made in Italy. The colors are a little more subtle and varied than the picture shows. I have 856 yards of this. I think that'll be enough for a simple shell, with maybe a cap sleeve. There's enough of a coppery cast to it that I think it will work well with Lisa's wardrobe. There's enough going on with just the color changes that I don't think I'll mind stockinette. Maybe just a touch of seed stitch around the edges.
And even though it's not much to look at so far, here's the progress on the poncho: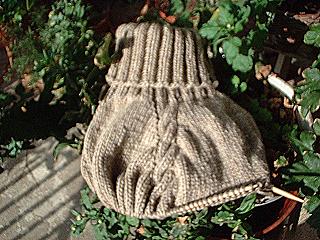 That's 20% of the yarn. There's 196 stitches right now. I haven't figured out how many there will be when I get closer to the bottom. I don't think I really want to know. It's about time to switch to a 29" needle. I think I'd better start looking for an even longer one.