Orange you glad?
A few years ago Lisa told me she really liked orange as a color. I had never paid much attention to orange. It was just one of those strange colors that I would never wear or buy anything in. But I started paying attention and now I have a veritable grove.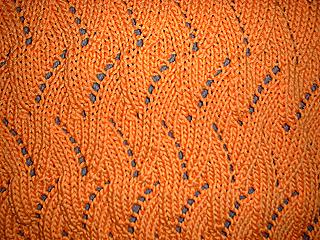 This is a section from a top I almost finished a couple of years ago. It's Tahki's Cotton Classic, one of my favorite cotton yarns. I'll probably rip this and make something else as it's now too big.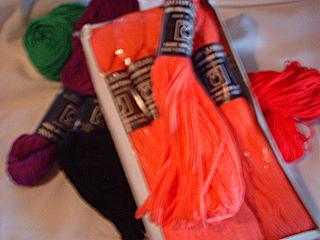 Some more Cotton Classic in a more coral color. Destined for another top, someday.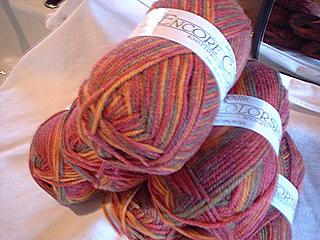 Encore Colorspun from Plymouth. Lots of greens mixed in there. Another abandoned project that may be recycled as an afghan for someone this year. It's a pretty nice, serviceable yarn if you need easy care.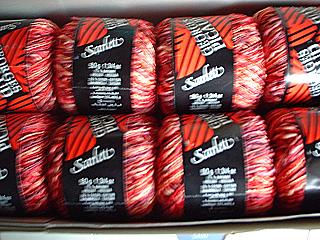 A very dressy yarn that I got for $2.00 a skein at a shop in Long Beach, The Knitnut, or something like that. Georges Picaud has been out of business for years. This might become a short vest or top later this year. I keep looking at it so something is coming soon.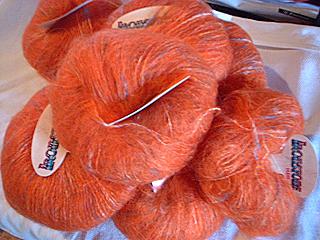 Ironstone Mohair that I got when Mariposa was closing their doors. I've had a pattern set aside for this one for maybe five years. A cardigan with large cables. Someday.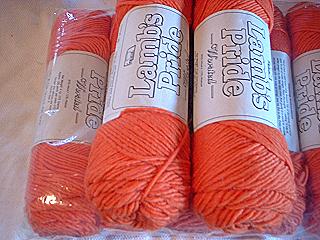 Brown Sheep Lamb's Pride worsted that I got at a weaving show about three years ago. If I have enough, which I think I do, it will become the Clockwork Vest from Cheryl Oberle's
Folk Vests
.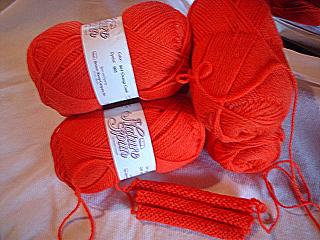 Some more Brown Sheep. NatureSpun in a worsted weight. I have six skeins that I got at the same weaving show where I got the Lamb's Pride. Not sure what this will be. I may need to add something unless I do a vest.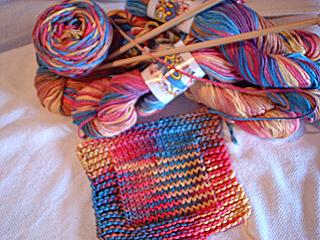 And the latest acquisition. Rio, made in Brazil and imported by KFI. It's 100% viscose but feels a lot like cotton. Just got this yesterday, a gift from Mendy. I was looking for sock yarn but Bishop's didn't have anything that I didn't already have so I was looking at the sale stuff, just in case. I really liked this color way. The orange is pretty much on the red side but still qualifies as orange for my purposes today. I like the swatch and that it works on a 6mm (US10) needle. I have ten skeins, enough for a shell. I'm probably going to work from two separate balls at a time to avoid the pooling that you can see in the photo. Especially if I do sleeves.
This is by no means a definitive presentation of the orange tree that grows in my stash. It's just all that was near the surface. Someday this will all bear fruit. (I hate myself when I do that.)