Monday, Monday
It was a so-so kind of weekend at Skein. It was hot enough here to keep most people indoors. And for most people, I guess, knitting is just not a summertime activity. But still there were a few of the faithful in attendance. And I had time to catch up with what's happening for fall. Ann Mary didn't think all that much of the TNNA show. At least she didn't think there was anything that she hadn't already seen from the yarn reps calling on the shop. Seems like there's still going to be lots of novelty yarns. Ribbons and furry things. The colors are deeper and richer. The new yarns should start to arrive sometime after the 15th of July.
I did finish the All Seasons Cotton baby sweater.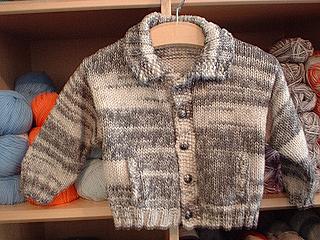 It's a little difficult to see everything in the photo but I'm fairly pleased with it. I need to focus more on my finishing technique. I wanted to bring it home and wash it but Ann Mary thought it was fine the way it was. This is a size 1 to 2 years. I think it would have been better in a little larger size. The seams are a little bulky at this size but it's still cute and should help move some of the yarn. I liked working with the All Seasons Cotton though. But then I like working with cotton.
So now I'm off to Michael's to see if they got any new colors in the Cotton-Ease. Or if they ever got any of the Lion Brand sock yarn.