I have been encouraged to get some of the Wildfoote "handpaint" sock yarn. So now I'm trying to decide which color way I want the most. Probably the gold and jewel tone one as the others are pretty dark overall and I'm finding dark colors are too hard to see.
I think I'm going to have to rip this sock.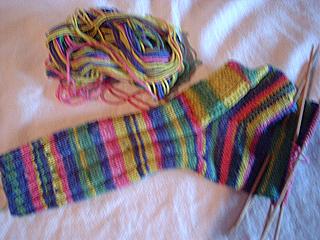 I'm don't think I have enough yarn to finish and I'm not very happy with how big it looks. I need to find some yarn that will look good as a contrast heel and toe. This Plymouth Reggio yarn only has about 150 meters per skein. The last pair I did without contrast toe and heel were also a close call. One of my teaching mantras is "if you knit you will rip" so I really can't complain. Besides I like the colors so I will enjoy working with it just that much longer.
Four more rows of ribbing on the second arm band of the Fuzzy yellow thing and I'll be done, except for sewing up the side sleeves. Then to find a spot to show it off at Skein. Hope it helps the yarn move. We've sold a lot of the All Seasons Cotton since the sample was put up a week ago. I don't have another shop sample project lined up yet. Possibly another elongated stitch shawl using two or three contrasting yarns.
Lisa didn't make it over last night due to work load. She's supposed to come over tonight instead. So I spent most of last night working on the Interlacements top. This is going really well and fast. I'll have plenty of yarn after all. I'm thinking I'll need to block this one. I'm not a big freak behind blocking but I think this one will need it. I've never tried the blocking wires. I wonder if they would be a good thing. And I could use a board of some kind. Guess I'll start looking for those sometime soon.