What it looks like from my window, the one next to where I sit when I read blogs. Sorry about all the wires and telephone posts. I just ignore them myself.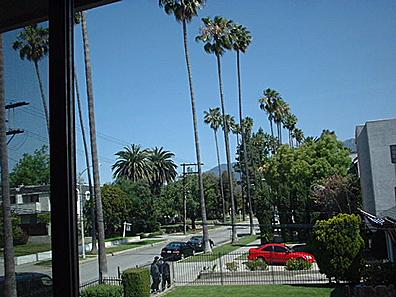 It's a gorgeous day here and I'm really enjoying it. Going to Skein today and am looking forward to seeing Mendy again. She's one of my newer students. I love working with her. She's absolutely unafraid to try things. I think she's going to get bit by the sock bug real soon.
Speaking of socks, of course.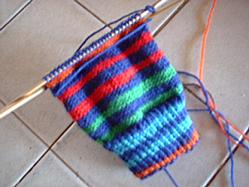 This is Regia in a repeating stripe pattern. I'm calling them Clown Stripe Sox. I don't know what they or anyone else calls them but they just look so crazy and whimsical that nothing else seemed appropriate. I worked on these last night while sitting in my car waiting for time to go inside the bowling alley. And a little this morning while I read the blogs. I need to find something for the contrast heels and toes. I'm thinking about using green but maybe I'll use the red that I have left from the other Regia socks I did a few weeks ago. I'd really like orange but we don't have any at Skein.
I'm so pleased with myself right now. I finally got all the yarn stash that I had moved into the living room packed into the plastic boxes that Carole gave me. I had to move it all back into the bedroom but at least I'm not tripping over all the bags. There are still a few bags that I didn't have boxes for. But I'm getting there.