New loot
Yesterday Joanne and I went to the Southern California Handweavers' Guild Conference. It is primarily about weaving but their exhibits did include some spinning, dying and knitting. I didn't get any pictures because in the past we haven't been allowed to take pictures so I assumed the same rule would apply. This year, though, I guess it would have been okay as I saw a number of people snapping photos of the exhibits. But, anyway, the main reason I went was for the vendors' hall. Sunday was the last day of the Conference so some of the vendors had already left. But I got to see the ones I wanted to see, plus some others that I had not seen before.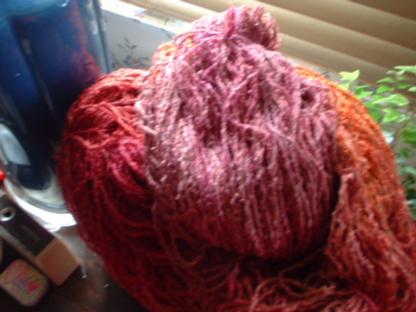 I got this hank of Interlacememts "El Paso". It's a blend of rayon, cotton, silk and linen. This was the first time I had met the folks from Interlacements. I had been checking out their website and was curious about what their stuff would look like IRL. It's very nice. Wish I could have afforded some of the other things. After Joanne saw this hank she went over to their space and got some for herself and one of their other new yarns.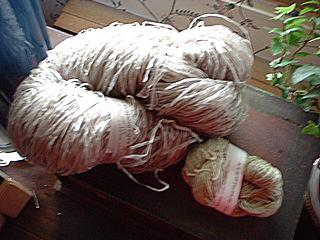 Finally got to see some of the Habu Yarns too. The big hank is paper (made from linen) and the smaller one is 100% silk. There isn't enough to make anything more than a scarf and I don't think it will really work for that. I may order some more after I've tried it out. Habu is a fiber shop in New York that I had been seeing references to. Really fascinating stuff made from unusual materials. There was one hank made from wild silk that I wish I had bought but then I can't have everything. Maybe next year.
I also got a kit for a small purse from the good people at The Knitting Basket. They were out of stock on the one I wanted so they're going to ship it to me. From what I've heard these are the people who brought Horst Schultz to the US and started a new craze for modular knitting. The kit I bought uses modular knitting, which I've been meaning to try. I'm not likely to just sit down and do it from a book. Getting the kit will "force" me to try it out. And I think it will be okay is a small item like this. Most of the garments I've seen made using this technique look a little too county fair rustic for my tastes. Although there was one vest done in very neutral colors that looked like it could be worn in the real world.
I've been very busy for the past few days at Skein as well as socially. I'm supposed to go to a party later today but I think I'll stay home and knit. I haven't had much time for my own stuff and I'm missing it. Plus if I don't get my laundry done, well, let's just say there's a lot of it.