More sock yarn, it must be Monday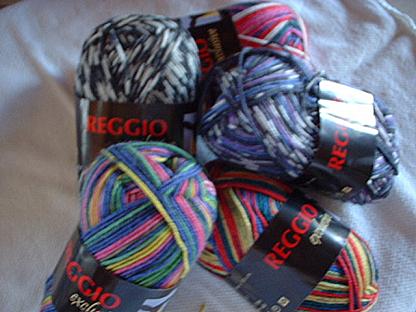 Plymouth Yarns is finally getting into the sock yarn business. These skeins are a gift from a friend who is also the rep for Plymouth Yarns. I saw one skein of the yarn last week when Nancy (the rep) came in to Skein to teach the Wednesday night class. I asked her where I could see more of it and she said I could come by her home. So Friday night we went to dinner and she presented me with ten skeins, two each of five color ways. I haven't worked with it yet but I saw a couple of socks she had started and I like it a lot. The colors are a little clearer than some of the other pre-printed yarns and there are some unusual color combinations. The fiber is 80% wool and 20% nylon. The name is Reggio. It's made in Italy for Asa Gjestal Spinner (I think that's a Swedish company). 150 meters per skein.
I'm just about to finish the second of the Clown Stripe socks. Maybe later today. Then I'll start the second Mexico sock. I have errands to run today so I won't get to work on these until this evening. Bother!