Obsessions
One day last week a nice lady came into Skein for a little advice and help on her project. While we were talking she told me how much she enjoyed reading my blog. Now that's the kind of thing that just makes my day. I've had a few other people make similar comments and, believe me, it's a wonderful sensation. These are not people who blog. They're interested enough to take the time to read. So thanks for the support.
Alison
left a comment yesterday about my current obsession with sock knitting. She's so right! It's all about socks right now. But what's really happening is just my usual way of reacting to anything that I happen to become obsessed with. I have to stick with it until I've burned out. Sometimes it takes a long time, sometimes it's over pretty quickly. I was really taken with needlepoint a few years ago. I accumulated a lot of fibers and canvases. Most of that stash now resides in a closet in my yarn stash room. I think that obsession lasted about a year. I got interested in web design for a few months but gave it up almost before I got started. It took me several years to make up my mind about getting a Master's in drawing and painting but I finally did it and haven't really done much painting since then. I don't imagine my current obsession with sock knitting will last a long time. Right now I'm thinking about baby sweaters.
I did go over to Temple City Knits and got some different yarn for the heels and toes of the Mexico socks. And some Jawoll and some Kroy for a couple more pairs. Part of my obsession has to do with buying the supplies. I like shopping and I get a real charge from knowing I have the stuff.
I cast on the Opal that Emma sent, just to see how it was going to look, mind you. Didn't get enough done to really see it yet but I think it's going to be quite nice. Very subtle stripes. Today I'm going to play with the Calmer. I haven't made a hat in a while. That was my obsession a few months ago. So after I check the gauge I'll work out a pattern using the two colors. Can't wait!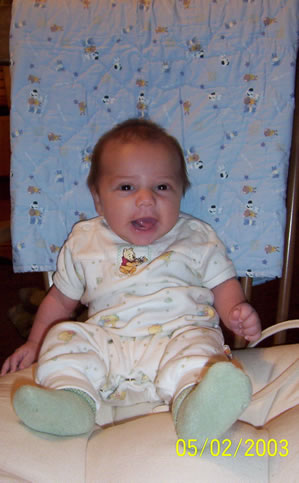 My faux grandson, Nicholas, at two months old. His dad brought him to Skein last Saturday. Although he wasn't quite so happy as in this picture it was still a joy to see him.