Gone and pretty much forgotten
A couple of days ago I was looking for some old knitting needles that a friend had given me. I more or less knew where I had hidden them so I started digging. Found the needles without much problem but I also found some abandoned projects.
I have absolutely no recollection of making this sweater. I do remember the wool and I have another sweater that is worked in the same stuff. This sweater must be more than ten years old. The shoulders are stitched together rather than using a three needle bind off (my currently preferred and only way of putting shoulders together). One of the sleeves is sewn up. I tried the sweater on and it no longer fits. (Another typically blurred photo. It looked pretty good in the camera viewer though. I've already put the sweater away and don't want to dig it out again, until I get ready to rip the thing.)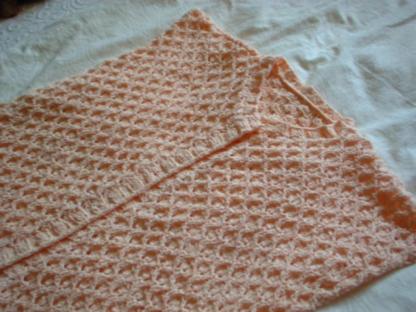 This peach colored vest, which I don't remember knitting, needs to have the sides sewn up and the armhole ribbing added. It's a terry cloth looking yarn that we carried at Mariposa eight or nine years ago. I do remember the pattern because I had designed it using a different yarn that we gave away at the shop when you bought the yarn. I liked the original better than this one, so that may be why I decided not to finish it. It looks like I had learned how to do the three needle bind off by this time. The stitch pattern is from one of Barbara Walker's Treasuries. (I think this is the best photo I've taken so far.)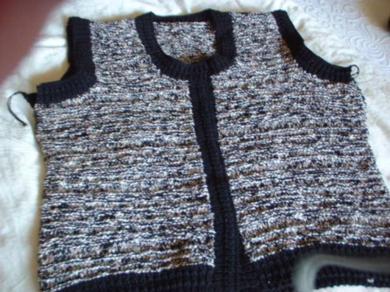 I vaguely remember knitting this vest. I don't know what the yarn is but the whole thing is very heavy. The black borders were a bad idea and I think that's why I put it away. The body yarn is a kind of tweedy mix. I think I can reuse that. The black is not worth saving.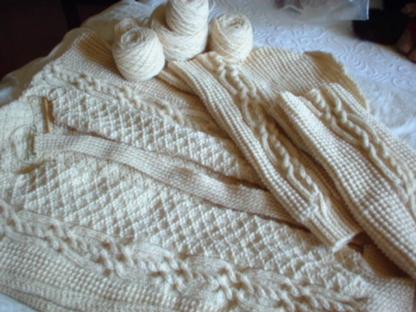 This one I remember. I did one of the front button bands but it has to be stitched in place. I didn't want to do that. I used some Fingerlakes soft wool and I have a lot left over. This one will get ripped and recycled. I originally made this for Lisa but I think I got the size wrong. The cables are nice but I don't like the seed stitch. It looks a little mechanical.
I told someone the other day that it's inappropriate to recycle projects until you've worked everything in your stash at least once. That seems like a good enough excuse to delay reprocessing these sweaters. I did find one of my missing circular needles, still in the Aran sweater, and a couple of stitch holders. I'm really pleased that I didn't find any moth holes.
I gave in and cast on some of the Plymouth sock yarn. I just had to know how it would work up. And I'm just about done with a gauge swatch in some Opal. (Size one needles are really a pain.) And at Joanne's last night I got about four inches done of the second Mexico sock. I'm a little perturbed with the second skein of this yarn. It's the same dyelot and color but the reds don't seem to match. Grrr!