A Monday Miscellaney
Emma
,bless her generous heart, sent me these yarns to sample and enjoy.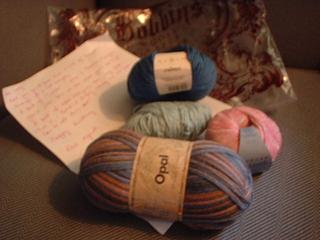 There, in the back, is some Rowan Calmer. And to the right is some Jaeger Celeste. And, in front, a skein of Opal sock yarn. I had been curious about the Calmer because Ann Mary didn't want to get any for the shop. I think I'm really going to like it. I'll probably make a hat using the two colors. The Celeste I'm not sure about. We do carry this at Skein but I haven't tried it. And the sock yarn is just pleading with me to try it out to see what it does. Maybe tonight. Thanks so much, Emma.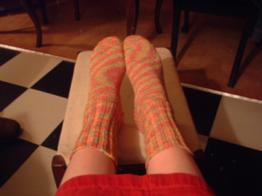 These are the finished Sockotta socks. The yarn is easy to work with but I'm disappointed that the feet are so different. I'm not sure if this is just what the yarn does or if somewhere along the way my tension changed and caused the whole thing to shift. But I still think the socks are cute.
Update on the Mexico socks.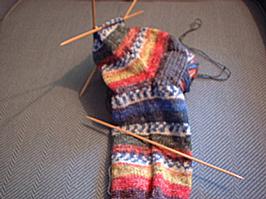 Well, I have to rip these back to the gusset pick up point. After spending a couple of hours on these last night I discovered a couple of dropped stitches just at the beginning of where I started. I think, since I'm ripping out so much, that I'll replace the heel with something else. The color is okay but I don't like the way the thinner yarn looks. I'm going to try to get to Temple City Knits this afternoon to see if they have something in a similar weight in a solid color. The red that I have is too bright for the red in this yarn. So that makes a good excuse to go over there and look around.
Mother's Day is not good for business! It was so slow at Skein this weekend. Maybe we should have been selling flowers and chocolate instead. I did have a couple of students who came to visit. And spent a large portion of Saturday afternoon listening to one of them complain about her husband. Very depressing. Working in a knit shop is a lot like being a hairdresser. People tell you the most amazing things!
Last week, while trying to tidy up a part of my stash, I found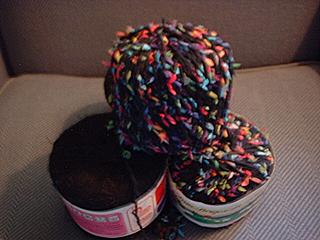 four balls of Katia Flash and four balls of Lana Borgosesia Flower. I must have had this stuff for seven or eight years. The flower is 70% cotton but these rest, including the Flash, is synthetic. I need to do something with this yarn. So I'm going to be playing with that for a while, between socks and finishing up the dumb boring scarf.