Sock it to me! (If you can remember that you're older than you're letting on.) Here's a couple of pics of my newest sock yarn acquistions.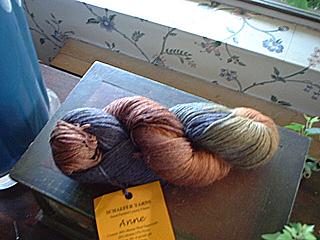 The colors are not all that accurate. The green is more olive, the brown is more cinnamon and the grey is not quite so blue. Other than that it's okay. The yarn is machine washable and there are 560 yards in the skein. Schaeffer Yarns, Anne. So soft!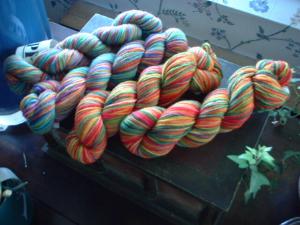 These are Koigu yarns that I got from
Threadbear
. This is my first purchase from Rob and Matt and I have to say it was a real treat. Rob put a lot of energy into sending me pictures of the various yarns they had in stock in the color ways I wanted to see. (I actually got the package on Friday but it's been raining, ergo, no sunshine, ergo, no pictures.) Anyway, I'm going to use the orange colorway to make
these socks
from the
current issue
of Knitty. Rob even too the time to check with
the designer
to make sure that two skeins would be enough to make the socks in the size I want to make. I'm not sure what I'm going to do with the other colorway but probably the same or a similar pattern. So if you haven't dealt with these guys, go do it. You'll like it!
I needn't have worried about being kept busy at Skein. Friday was a good day. Got to see a couple of people I've been missing. But Saturday! It's still a blur. I don't think I stopped (other than for a quick lunch) the whole day. There's something about rain that really brings the people out. And a couple of folks who couldn't make it in called for a little phone help. There was only one absolute beginner. Everyone else needed to learn some new technique. I was switching from teaching intarsia, to explaining different decreases, to how to pick up stitches and sewing some pockets on for one lady. It was a great day and today promises to be more of the same since some of the people didn't get everything done that they planned. I didn't do any knitting on my own stuff at all. Probably a good thing as I've been having some aches and pains in my arms and hands. Taking the day off seems to have helped.