And then I started this
I just can't get into anything very serious lately. There are lots of challenging, time-taking projects on my list of things I really want to knit. Someday when I'm feeling motivated.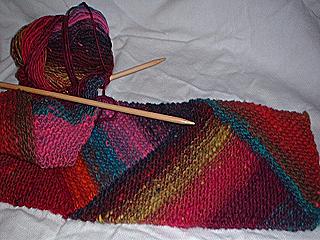 I like the multidirectional diagonal scarf. A lot. I have several students started on them. If you've made one you know how addictive, and fun, they are to knit. So here's my current one. Kureyon #126 on size 9, 35 stitches. I have three skeins but I think I'm going to get one more. I'm still working on the JaWoll socks that I started on Tuesday but I couldn't quit thinking about this yarn.