Summer hot, summer not!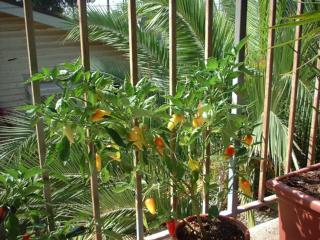 It's about time for me to harvest all these peppers. If I wait a few more days the peppers will all turn a brilliant red. They're pretty tasty and not too hot. Once in a while there's one that makes you notice.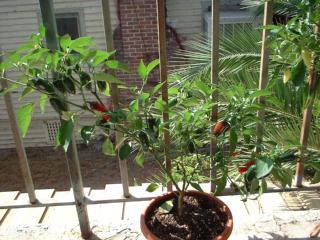 This one's hotter. It's a little difficult to see the peppers but this plant is loaded.
Anyway, summer's about over. Just another week and we'll officially be in Fall. I'll still be able to wear this.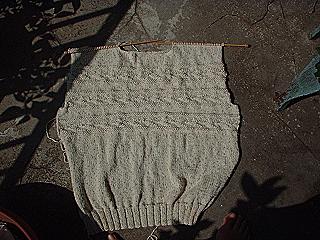 Crappy photo. Don't know why it's so dark and it looks like a stone carving. Here's a closer view:
Still not a very good photo. I'm using some Emu Cottons On Aran that I got at a weaving show several years ago. I like the yarn but there are several breaks in each skein so I'll have lots of ends to weave in when I'm done. This is the back. I'm about a third of the way through the front but have taken a couple of days off from knitting to see it that will help me get over the aches and pains I'm having in my hands and shoulders.
We decided not to go to the Knit Out in Santa Monica. Ann Mary was not well and took the day off on Saturday. I told her we should skip the Knit Out as she needed to take it easy. She did work on Sunday but you could tell she wasn't at her best. I haven't heard from anyone who went to the Knit Out so I don't know how successful it was. Anyone?
We finally got the Rowan and Jaeger yarn shipment. I've looked through the boxes but we don't have anything on the shelves as yet. I like the new Jaeger book that features their Natural Fleece and Fur. Some fun designs but probably way too heavy for our climate. Very theatrical! That might work around here.