Nearly done
Sewn up, ends woven in, just need to crochet the armholes and block it.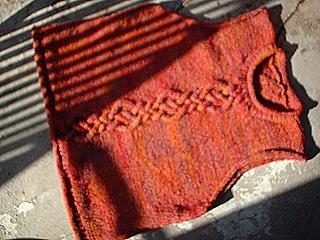 And a little closer view.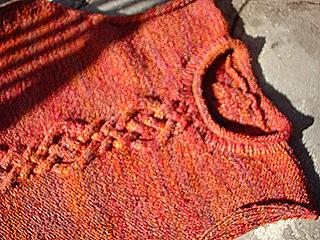 I used a Berroco pattern that worked to the same gauge that my yarn gave me so I didn't have to make any changes. I used two strands of yarn. One strand is embroidery floss and the second strand is a furry cotton yarn called El Paso that I got from
Interlacements Yarns
. I like the striated look. The cable shows up better IRL. I'm waiting for Lisa to try it on before I do the last bits. The armholes look like they might be a little deep. If that's the case I'll add some ribbing instead of the row of single crochet the patters calls for.
Another quiet day at Skein. After the crowd on Wednesday it seemed unreal. I spent most of the afternoon doing some finishing and knitting a few rows on the current sock project.