Yield not to temptation
For yielding is sin.
If you grew up in a small, rural town in the South, especially if it was before the overwhelming, mind-altering, attitude-adjusting influence of television, you may recognize these lines as from one of the frequently included hymns on your shape-note singing, with no instrumental accompaniment, venue.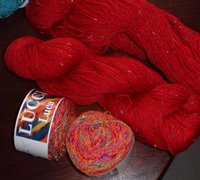 I have some temptation issues. I try to be good and to resist things that I should. For example, we had lemon bars for dessert on Monday. I was very strong and resisted the urge to indulge. Not to mention that I'd already had cheesecake and mangoes. So I passed up the lemon bar. But I did bring one home. Just to satisfy our hostess. I resisted having it though. At least until the following day. And it was good but probably not worth the guilt and anguish I felt afterwards.
A couple of weeks ago when a group of us went for an evening of yarn shopping I resisted the urge to buy anything. Got lots of compliments and congratulations for that. Actually I was very close to buying something, anything would have done, but I couldn't find anything that I didn't already have. So it really wasn't a moral victory. Just a bit of ennui.
So why did I buy these patterns? I'm calling it r&d. It really wasn't temptation. We had a customer at Skein recently who asked Ann Mary if we had patterns for Noni bags. Ann Mary tried to redirect the customer to some patterns that we do carry. She hadn't a clue what a Noni bag is. I checked when I got home and found that every yarn shop in our neighborhood carries Noni Bag patterns. We went to A Stitch in Time and got three different patterns, which I dutifully took and showed to Ann Mary. Not sure if she's going to get them. I think they're really cute and would definitely be fun to knit. And I was tempted, and gave in, by the lure of this new yarn, Luca from Lucci, and some Cascade 220 Tweed. (See top photo.)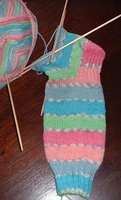 I can only resist temptation for so long. I had to start something new. If I'm going to give in, it might as well be something I'm going to really enjoy.