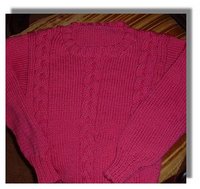 Pictorial evidence that I have actually finished something. Here's the magenta sweater for Dulaan that I've been working on for what seems like months. Bad photo. Hope you can see the cables.
I made up the pattern pretty much as I went along. There are only two cables on the back. I used my Sweater Wizard program to do the basic math and then added stitches to compensate for the cables. Sweater Wizard is a good program but it's not a mind reader. You do have to do some adjusting occasionally. A couple of people in my group asked for the pattern so I'll have to give them a verbal tutorial on how to insert the cables if that's what they decide to do.
Overall I'm pleased with how this sweater came out. I used some Galway yarn that I've had in stash for several years. I've already made one sweater from it and still have enough to make another one. Maybe for next year's Dulaan project.
Pat the Cat has decided that he'd rather have his breakfast at five in the morning instead of six. I'm getting used to it. Actually it's not such a bad idea. I can get out for my daily walk and still have time to do a few things before it's time to go to Skein or where ever else I have to go. I can't stay up as late as I would like though. KUSC, the local classical station, usually plays the big pieces, Mahler, Bruckner etc., late in the evening so I miss getting to hear those.