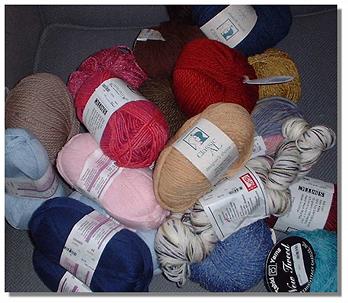 Unwind
is having a sale. This is what I got. Not everything was on sale but most of it. I only went to exchange a duplicate skein of Cherry Tree Hill sock yarn.
They're celebrating their second anniversary. Most of what I got was 25% off. A couple of things were even more discounted. Like that Fortissimi cotton sock yarn there on the left. Only $2.50 per skein. There's an online store that also has some great deals.
I'll be making more hats. I've already started one using some of the Nashua Wooly Stripes. First time using that yarn. So far I like it.