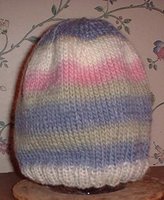 So. Here's the first hat that uses the yarn I got yesterday. I used a bit over one skein of Nashua Wooly Stripes. I either need to get another skein or maybe Mendy got the same colorway and will be able to use this.
I really liked working with the yarn. No knots of any kind. The color transitions are very well done. I think if I'd done a smaller size I'd have had plenty. So I'll see when I try one of the other colorways I bought.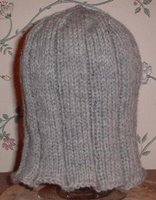 I've no idea what the yarn is. Might be Galway or Cascade 220. I just found it in my stash where I had put it after my trip to the Knitters Retreat a couple of years ago. Anyway. I'm reminded of an inverted tulip. It looks much better on. Trust me. I don't think 6x2 ribbing is such a good idea afterall. I meant to do some cables but got too involved in watching a movie and didn't realize how far I was into the hat. So I cancelled the cable and just kept going.