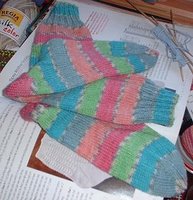 The pastel stripes socks are finished. I'm trying to decide which sock yarn to use next. I want to make the Tipsy Knitter Socks, designed by
Katherine Matthews
, in
Socks, Socks, Socks
from XRX. I'd be well on my way if only I could find the yarn. I know I have several different colors of Lang Jawoll but I sure can't find it. Obviously I haven't looked in the right bin yet.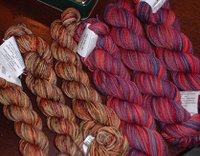 It's also equally obvious that I have way too much yarn. Usually when I go looking for something in my stash it's a lot of fun to re-discover things I'd forgotten. Today, however, it was just depressing. Not that I'm getting rid of anything. But the idea of how many unplanned projects that are going unrealized is overwhelming. So this is it! I got this Koigu last week. The goldish color I got at Unraveled Yarn and the raspberryish ones I bought from a friend who is de-stashing. Smart lady! I'm pretty sure these will go for socks, once I get through with some of the other pairs I've already started.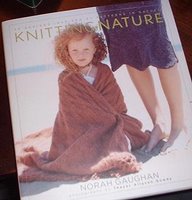 Have you seen this book yet? I just got it from Overstock.com. I've been fascinated by Norah Gaughan's designs for years. If you like cable knitting and shaping techniques, this might just be the book for you. You also need to enjoy picking up stitches and lots of sewing and piecing things together.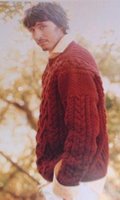 While there are lots of patterns in the book that I would like to try, this one is the most likely candidate. It's probably one of the easiest projects in the book in spite of all the cables. It's primarily a matter of following some charts. And you need to be able to count. Of course, I don't have the yarn for this. Well, not that I remember anyway.