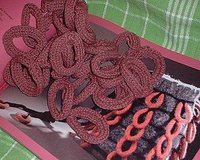 The extra ball of yarn finally came in. Now I'm back to making O-rings for the Circles bag from Nicky Epstein's
Fabulous Felted Bags.
That is, I will be once I finish the 73 inches of black I-cord for the drawstring. I have about a foot to go on that. Then I get to sew all these rings on the bag, sew it up and hand it off to Ann Mary for felting. There's still nothing on the errata page for this pattern but there are plenty of others. We did get some additional skeins in this color in case others making the bag find that they run short. I have talked with one person and asked her to let me know if she has a problem.
Yesterday was a typical busy Wednesday. Seven students kinda spread out through the day. Much easier to cope with than days like last Saturday when everyone shows up at once. The worst part was having to tell two people that their gauge was way off from when it needed to be. Keep checking your gauge, people! Especially if you're working in "just stockinette".