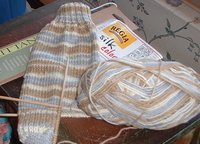 No second sock syndrome on this one. I'm making a shop sample sock. There'll only be one sock. Less likely to get stolen. The yarn in Regia Silk, 20% silk, 55% wool and 25% nylon. It's a really nice yarn to knit. There's a bit of crunch from the silk but the wool keeps it soft and makes is springy. At $20US per skein, you need two, I'm not likely to get any for my stash.
It has been suggested that I try two needles to knit the Tipsy Knitter socks. I could do that but I'm too much of a hidebound traditionalist. Generally I don't go chasing after newfangledness. It's not that I can't see the possible advantage though. But I've tried the two circular technique and just didn't like the process. Those dangling needles drove me nuts. I have resolved the issue I was having with the distribution of the stitches and even though I didn't get much done last night, I'm content with how it's going.
It's been really slow for me at Skein. Only one student yesterday and that wasn't until 6:30 in the evening. I cast on the Regia Silk sock shortly after 10 in the morning and knit what you see above during the long day. I did have some people drop in to sit and knit and that really helped speed the time. But it doesn't pay the bills.