Induction
Yesterday Mendy and I took our new knitter friend for a yarn shop crawl. It was really just a couple of local shops but still it was exciting to show her what is available out there.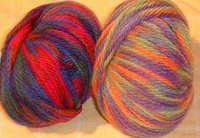 We started at A Stitch in Time in San Marino. This shop is, or was, primarily a needlepoint shop. They now carry knitting yarn and there's a whole separate section called Hodge Podge that is chock full of gift items for the home and accessories to wear. They also have the best prices overall of any shop in the area.
Even though I only meant to buy an Addi Turbo I ended up with this yarn, Basics from Lana Grossa, in two colorways named Joker. Wool and nylon that works on a size 10US. I only got two skeins of the two colors.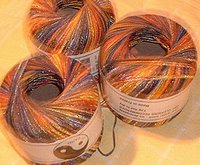 And then someone told me about the 75% off rack in the back of the shop. At 75% off you have to buy something even if you don't know what you're going to do with it. So I got these three balls of Yang Ribbon. It's true that I don't know what I'll do with it, probably use it as a carry-along or maybe a knotted edging of some sort.
The next part of the ritual yarn shop crawl is to have lunch. We went to The Peach Cafe in Monrovia which is conveniently located next door to Unraveled. I love this shop. I usually get by there at least once a week although I don't always buy anything. This time I got another Addi Turbo, a 47" one for the Cocoon jacket. (I'm already crowded on a 29" one.) Anyway, I ran into three or four friends from Skein and answered a couple of knitting questions and reminded someone how to bind off. And I bought a copy of Jane Ellison's
Naturally Noro
. We had this book at Skein but I waited too long and the last copy was sold last Saturday.
Meanwhile, the inductee was having a good time and finding all sorts of things she might like to have at some point. She has a lot more self-control that Mendy or I have. But I think she'll catch on pretty fast.
And besides all that, we drove in my new Element, which is just about as fun as it gets.