From start to start
It's hard to believe that it's been a week and a half since I took the Cocoon Jacket class with Annie Modesitt. And that I got stalled after only a few days. This is the beginning. We got through most of this while we were in class. I wasn't real happy with the way the center starts. It leaves a big hole that has to be sewn up later. And I didn't like the charcoal yarn either. I'm using the same colors and yarns that are used in Vogue Knitting. The dark spot doesn't show up in their photos. Maybe they doctored the picture or something. But whatever. I thought it looked too much like a target.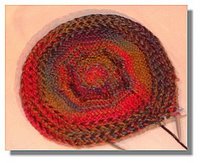 So I changed it. Last night I ripped everything I had done and rewound the yarn. I decided to try the circular cast on that is in Cheryl Oberle's
Folk Shawls.
I couldn't get over how easy that was. And I changed the starting color to the multi-colored yarn. I like it so much more. I only have to weave in the tail from the cast on and I'm done with that. No sewing!
So far I've only done one repeat of the pattern rounds, 17 rows per repeat. This seems to be growing rapidly. I'm already on 24" circulars and will probably move to 29" after another 17 rows or maybe 34. I did get a 32" Addi Turbo while I was at Stitch in Time on Monday so I'm set for that.
I expect the jacket will grow more slowly as 8 more stitches are added almost every other round. Doing the twisted strand rounds takes a while but the effect is worth it. I don't know why the white background in the photos came out looking so peachy. Maybe it's the flash. I imagine there will be other color variations as I go along. If one of them is anywhere near accurate I'll let you know.