Good gadgets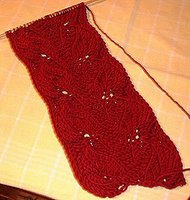 I've been doing a lot of pretty simple knitting lately. Projects for Skein are almost always aimed at the novice knitter or at the instant gratification market. I'm even doing scarves for a friend who only wants the simplest of knits. Most of these things are knit while I'm as work. So when I get home I'm usually looking for something a little more interesting.
I'm stalled at the moment on the Cocoon jackets, waiting for a measurement that I need, so I decided to get back to the Back Yard Leaves scarf from
Scarf Style
, designed by Annie Modesitt. I had started a few weeks ago but got sidetracked by some other things. I managed three repeats last night. It's really a fun knit.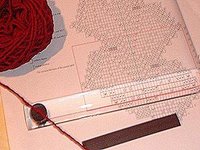 And it was helped along by this, a magnetic clip board. I'm not much on gadgets when it comes to knitting. A row counter, some stitch markets and a pencil and paper. But this clip board is definitely worth giving a try. It was given to me a couple of years ago on one of my many birthdays. I hadn't tried it until last night. It really makes following the chart a lot easier.