Such a heel!
Here's the new heel shaping I'm trying out.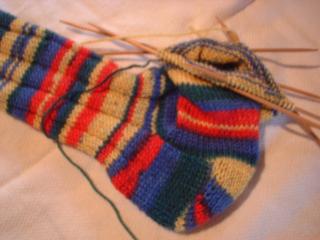 The only place I've seen this particular approach is in a Stahl sock pattern book. The heel flap is worked in stockinette with a knit stitch at the beginning of every row. (I used a slip stitch instead.) I worked 22 rows. To turn the heel, knit to six stitches past the center, SSK or SKP, turn. Slip the first stitch, purl 12, purl 2 tog, turn.Repeat these two rows until you have used up all the stitches. (The number of stitches past center will vary depending on how many stitches you have. I had 32.) You end up with a narrow band that is 14 stitches wide. Pick up along the edges of the heel flap (number of stitches depends on how many rows you've worked) in the usual manner. Decrease at the end of needle one and beginning of needle four (or three if that's what you're using), work two rounds even. Repeat the last three rows until you're back to the original number of stitches. Well it makes sense to me. I'm not sure how comfortable it will be with those decreases along the edge of the band but will find out soon enough.
Sorry about the crummy photo. There's no sunshine today, at least, not yet.