Some more
Here's a couple of finished things.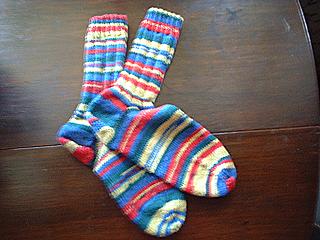 These socks are finally done so you won't get to see them again. And I won't either after tonight. Lisa will take possession of them. I sure hope they fit. I used Plymouth Yarn Reggio and worked from the top down. They originally had a short row heel but I changed to a Dutch heel which I like a lot better. Nearly ran out of yarn. I had a little over a yard left on the first skein and just over a foot on the second skein. I'm going to use fewer stitches on the next ones I do with this yarn. I think they'll fit better too.
Here's the latest shop sample. I had planned on finishing this last night but I ran out of yarn. The pattern called for four skeins but I don't have enough to do the neck and arm bands. I tried picking up stitches just to see what it would be like and it was terrible. Finding the edge stitch is next to impossible. Maybe it will be easier in daylight. Anyway, I'll put this away until Skein reopens. The pattern and yarn are from Stylecraft. The yarn is called Eskimo. It's pretty easy to work with. The pattern is for an adult. I don't know anyone who would wear this though. Too cuddly, cutesy I think. But then I like plain and simple.