It's Father's Day, almost
Here it is, late on Friday night. Lisa just left for home after taking me to dinner and gifting me with a wonderful lemon tree, which I've been wanting for a long time, and a couple of jalapeno pepper plants, which I didn't know I wanted but am very happy to have. She's a great kid and my pride and joy, just as she's always been. Look! I know she's a grown woman but that doesn't mean I can't tell her to drive carefully and to get some rest. I almost forgot. She also brought six bottles of premium wines. One of which I can vouch for as being superb.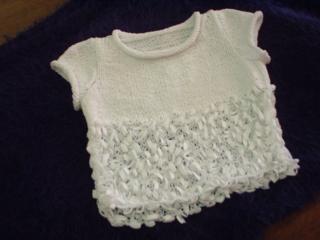 So, I didn't forget the camera today. Here's the latest completed shop sample. A child's top in Katia Rumba and something else, the name of which I forget. The lower part is the Rumba. It's a very simple knit but is quite cute. We didn't have a four year old to model it. The background is a shawl made from Berroco Furz.
It was quieter today than yesterday. Looks like the weather is turning around and becoming summer after all. I hope tomorrow is busier. I know I have a student as soon as the store opens but I'm not sure after that.