Photo Op
So the sun is back, along with the heat, and so I have no real excuse for not adding some photos.
I'm using a Berroco pattern and combining the Interlacements El Paso yarn I got at the Riverside Weaving Conference a month or so ago with some embroidery floss I bought three or four years ago at another weaving show. The floss cuts down on the red in the Interlacements and gives the fabric a more rustic/handwoven look.
Here's a detail of the cable. I haven't worked on this is a week or so but looking at it againg makes me want to get back to it. Both yarns are 100% cotton so I thought it would make a nice summer top but it's working up to look more autumn like. But, hey, it's California! Cotton works year round.
And since I had the camera out I thought I'd show the sock yarns I got on Tuesday.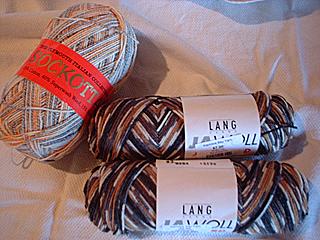 I got these two yarns at
Alamitos Bay Yarn Company
at the Marina in Long Beach. The Sockotta is a combination of pale greys and yellows; the Lang is more vibrant with more contrast to the colors but still in a similar color group. I think I'm getting into yellows right now.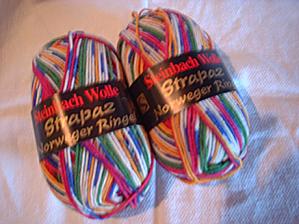 But not entirely. I got this yarn at
Velona's Needlecraft
along with a skein of plain black. It's a new brand to me. I think it's new to them as well. Velona apologized for it being a little more expensive than the other sock yarns. It was $8.50 per skein. The ball of black was only $6.00. I think her prices are lower than other places I've been, for similar yarns.
My car is still visiting with the mechanic. What I thought was going to be about $350 has multiplied and is now going to be approximately $1000. But that's because I also needed new brakes and the 60M service. I think I need a senior discount, something like 90% would work. This is really going to curb my yarn purchases. Well, at least until next week.